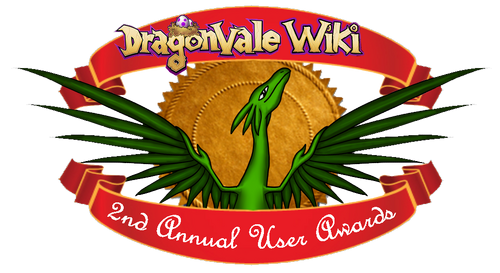 Introductory Words Introductory Words - Ceremony Events Ceremony Events - Winners Winners
| | |
| --- | --- |
| | From our co-host: |
Welcome, welcome, welcome! To the wiki awards! First off i wish everyone could have won a awards but sadly everyone couldn't, but everyone is a winner in my eyes! I have been here since may 26, 2012 and i have seen the community grow a lot, through good and bad times, thick and thin, in its darkest times i have always had faith it would get better and it always does! So with out further a due i would like to present the wiki awards!
| | |
| --- | --- |
| | From our co-host: |
Hi! Welcome to the Second Annual DragonVale Wiki User Awards ceremony! I am so glad that we could do this again. Last year was amazing and I hope that this year's ceremony is just as successful. Please do not post any negative comments and have fun!
| | |
| --- | --- |
| | From our co-host: |
Hello DragonValers! Welcome to our Wiki Awards Ceremony!  Congratulations to everyone who won an award, and we hope you continue to succeed on this wiki!  Seeing new faces here and old faces from the previous year's ceremony is a great sight to see, and i hope both groups will be staying for many more years to come!  Sit back, relax, and enjoy our Second Annual Dragonvale Wiki User Awards Ceremony.
| | |
| --- | --- |
| | From our co-host: |
| | |
| --- | --- |
| | From our co-host: |
Community content is available under
CC-BY-SA
unless otherwise noted.