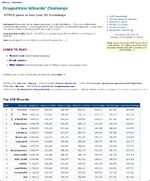 DragonVale Wizards' Challenge is an HTML5 game to test your DragonVale knowledge, and see how you measure up against the rest of the people crazy enough to test their DragonVale knowledge.  :-D
URL: http://www.2084.org/dragonvale/wizards-challenge/
Recommended Configs
computer using Chrome with 

768x928 

minimum viewport
iPad with latest iOS in portrait orientation
Disclaimer
The first time you play you'll see a quick disclaimer.  You won't see it again unless the browser's local storage is cleared, or you force it to appear again under Settings.
Sign-In Sheet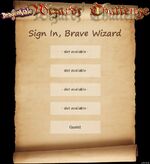 There are slots for up to four wizards, with a fifth slot for an offline guest.  Wizard scores are stored on the server, but the sign-in sheet is stored locally and will be lost if the browser's local storage is cleared (guest scores and settings too).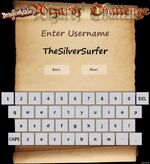 Click an available slot and use the on-screen keyboard to enter a username (3-16 characters, allowed: A-Z, a-z, 0-9, dash, underscore). The CAPS key acts as a caps lock.
You can also use a real keyboard.  If you do, hold SHIFT while pressing a key to enter an uppercase letter --- the on-screen CAPS key and the actual caps lock on the keyboard have no effect.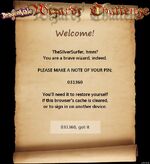 (a) If no one's using that username, it now belongs to you, and you're assigned a 6-digit PIN.  You'll need the PIN to restore the username if the browser's local storage is cleared, or to use the same username on other devices.  There's no way to recover the PIN later so PLEASE make a note of it NOW.  (As long as the username is still on the roster, you can view the PIN again under Settings.)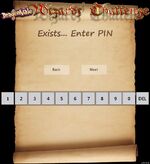 (b) If the username exists, you'll be asked for the PIN.  If this is your username, enter the PIN and you're back in business.
Please note:
Usernames are case-insensitive. If you're TheSilverSurfer, someone else can't get THESILVERSURFER. But the case will always appear the way you first entered it.
I reserve the right to remove any "inappropriate" usernames.
Main Menu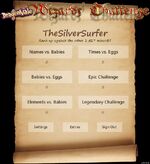 The main menu shows your score and rank, overall and for each challenge.
From here you can start a challenge, explore 'Settings' and 'Extras', or 'Sign Out' to select a different username.

How to Play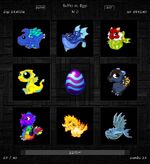 Challenges consist of 50 questions and take place on a 3x3 grid. The center square represents a particular dragon (the "question"). The surrounding squares represent eight different dragons (the "answers"), one of which matches the dragon in the center square. Just touch / click the correct answer.  If you have a keyboard, you can also use the number pad to make your selections (7 is the top-left square, 8 is top-center, etc).
The catch is that dragons can be represented in five ways:
name
baby pic
egg
elements
breeding/incubation time
The challenges mix-and-match these representations.  The first four are straightforward (question vs answer):
Names vs Babies
Babies vs Eggs
Elements vs Babies
Times vs Eggs
(After the 25th question the match-up swaps, Names vs Babies becomes Babies vs Names for example.)
The last two are a little different:
Epic Challenge -  the match-up changes each question
Legendary Challenge - no specific match-up, every representation is random
You'll face match-ups in Epic and Legendary not found in the first four challenges (like Times vs Elements), and have to watch out for the ambiguous question (see below). Names do not appear.
'Retry' and 'Exit' buttons are available at the top of the screen during gameplay.  You can also use the keyboard shortcuts R and ESC, respectively.
Scoring
The score reflects your speed and accuracy.  Below the playfield is a horizontal bar representing the point value of the question.  It starts with a maximum value of 10,000 and decreases by 1 for every millisecond elapsed.  Get a question right and the maximum value increases by 100 and refills for the next question.  Get a question wrong and the current value decreases by 5,000 and the maximum value decreases by 500.  The minimum value of a question is 1,000.
Accuracy is probably more important than speed overall (it's usually better to take a little extra time than to get it wrong).  For example, if you're having a good round and start to lose it toward the end, consider letting the bar run down to 1,000 to re-compose yourself, rather than panicking and losing precious max point value.
Beware the Ambiguous Question
In the first four challenges there's no ambiguity. If you're doing Times vs Eggs, the question is 48h and you see a Rainbow egg, that's the answer... there won't be another 48h egg shown.
In the Epic and Legendary Challenges, there still won't be more than one dragon with the same elements or time, but the special match-up of Times vs Elements (and vice-versa) does make some ambiguity possible.
Consider the worst possible scenario: a time of 48h versus rainbow element, sun element, moon element, treasure element and seasonal element. Each one of these elemental makeups has a dragon that's 48h and a dragon that isn't. In other words all five have a scenario where they could be the correct answer, and you just have to guess.
Unfair perhaps, but it does add a bit of DragonVale randomness and luck to the Epic and Legendary Challenges, and I like it.
Settings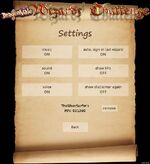 The settings are pretty self-explanatory. Your PIN is shown here.
Click 'remove' to remove the current wizard from the sign-in sheet. This does NOT remove the username or its scores from the server.
Egg Ninja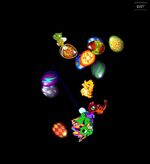 At some point I wanted to see what I could push on an iPad 3 at 60 fps, so I added a bunch of eggs flying around. My daughters, six at the time, saw it and thought it was hilarious. We started goofing around with ideas as we often do and it turned into what we called "Egg Ninja" (think Fruit Ninja). I forgot all about it, but later on when I showed them the almost-completed game, the only thing they wanted to know was... "WHERE'S EGG NINJA??!" So its existence and inclusion is all thanks to them. :-) You can find it under Extras.  But no, there's no real point to it, haha.

Credits / DJ Contacreast
Full credits shown in the pic, but I promised someone a special highlight.
If you like the music, check out DJ Contacreast's channel on YouTube and his website at djconta.com.  I've been a fan of his for several years, and he graciously agreed to let me use his music.  Thank you DJ Contacreast!!!
Some of my favorites:
Contest!  $300 in Prizes
THE CONTEST IS NOW OVER --- SEE BELOW FOR WINNERS
The contest ends exactly when June ends, Eastern US time.
1st place: $100
2nd place: $75
3rd place: $50
three random people with 2.5+ million: $25
Winners will be announced as soon as possible, but it may take some time to "certify" the results if shenanigans are afoot.  The game can be hacked, like pretty much everything, but it's unlikely to succeed without raising some red flags.  If I suspect a top 3 score isn't genuine, I reserve the right to require a YouTube video showing off your skills.  Worst case scenario, if the scores become polluted beyond repair, I'll use the leaderboard as it exists right now (2013-05-31 4:35 PM EST) to decide the winners.
Winners will see a new button within the next version of the game (v1.0.3) that takes them to a special form on 2084.org.  So if you're serious about the contest, DON'T LOSE YOUR PIN.  Winners will have at least until the end of July to complete the form.  If any prizes go unclaimed they will not roll to someone else.  I may or may not use unclaimed prizes for future contests, server costs, or other reasons.
In the US I'd prefer to send you an iTunes gift card or some other gift card. Outside the US you'll need to have PayPal to accept the prize, or we'll need to work something else out (but expect any shipping charges to come out of the winnings).
Rules / Fine Print
One entry per person
One entry per device and/or household (if multiple are detected the highest score will be used)
No purchase necessary
Void where prohibited
If under the age of 18 and you hit 2.5+ million, please make your legal guardians aware of the contest and make sure they're okay with it
If under the age of 13 and you win, your legal guardian MUST complete the winners' form, I will not accept info from anyone younger than 13
It is the winners' responsibility to comply with any tax or other requirements of your locality/nation
Contest Winners!
1st Place: WarriorsCats777 [$100]
2nd Place: Echoriver [$75]
3rd Place: lisey [$50]
three random: dragonvaler11, imhockeystar & bossguy [$25 each]
CONGRATS!!  Please click the special button just above 'Extras.'
Thank you very much to everyone who participated!
Bugs / Issues
Sometimes the score/rank text is not centered correctly on the main menu
You may experience all sorts of problems when not using a recommended config
Version History
v1.0.5 [2017-05-27]
added extra start screen to make sure the game has already been "touched" by the time the music starts... as a result, music should work on more devices now
v1.0.4 [2017-05-26]
recompiled with GameMaker: Studio 1.4.1763 for better compatibility with recent browsers
tweaks to how the music is handled
v1.0.3 [2013-07-05]
added Salamander, Coral, Bouquet, Jade, Double Rainbow, Bearded, Summer, Liberty
added button for contest winners
number pad could select blank squares, fixed
changed Seasonal to summer version
v1.0.2 [2013-04-21]
added Terradiem
disclaimer improved on slower devices
in-game retry/exit buttons moved to top and keyboard shortcuts added (R and ESC respectively)
fixed Current/Plasma elements (thanks Echoriver!)
v1.0.1 [2013-04-12]
v1.0.0 [2013-04-05]
Leaderboard from v1.0.0 Preview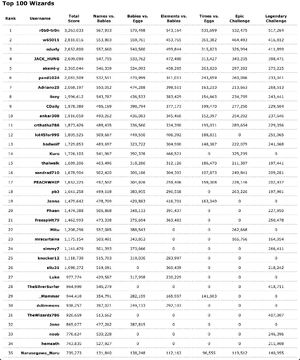 Community content is available under
CC-BY-SA
unless otherwise noted.