Welcome to my Profile
Hello <insert name here>, my psuedonym is Yehterf and I am a dragon lover and raise as many dragons as I can in my park provided by Backflip Studios. Using my magic powers, which were bestowed on me when I became a wizard, I created my own dragons, which can been seen below. I have a younger wizard and witch who both take care of their own dragons, (although my park is much more advanced than theirs).  Also, below, you can see which dragons still have to bless me with their presence in my park.
My avatar was made by ElektronX, if you like it you should check out her other works.
My Likes and Dislikes
My Likes
Reading
My iPod
Imagining/Thinking/Dreaming/Pondering
Holidays
Playing DragonVale
Food (especially chocolate)
My Dislikes
Homework
My Sister when she gets mad
Homework
Science
Homework
DragonVale Haters
and...Homework
My DragonVale Stats
- Level: 54
- Crowned Dragons: None
- Islands: 11 (plus the Epic Breeding Sanctuary  and the Gemstone Island)
- Playing Since: January 2013
- Gems: Just saving up for the Giant Habitats or the Island Themes
My Favorite Dragons
I love so many dragons that I will only tell you my favorite dragon of each element, (otherwise I would be listing all 194 of them! This is based on adult appearance, and it is also based on their primary element.)
Basic Elements
Epic Elements
And of course Kairos is my favorite Legendary Dragon, (as he's the only one)
My Dragon Ideas
Bouder Dragon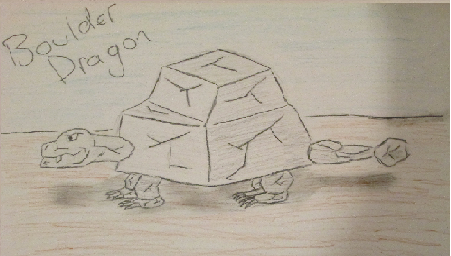 This dragon, yet being extremely friendly, is terribly lonely. Whenever it sees another dragon it runs up to it wanting to play. But the fearsome appearance of this dragon charging forward is enough to scare any dragon off.
Cyber Dragon
When the wizards delved deeper in the research of the magic of lightning and metal dragons, the powers clashed and reacted and created the world's first Cyber Dragon. Now you have no need to worry about technical faliures in your park, these dragons will get onto it immediately.
Pizza Dragon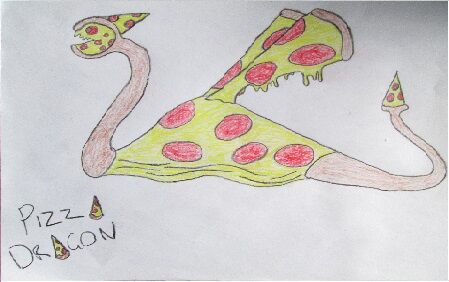 This dragon has leant the hard way to be wary around hungry dragons. The Pizza Dragon produes a delicous smelling aroma and leaves a slippery trail of warm mozzarella where ever it goes. Be careful not to slip!
Volcano Dragon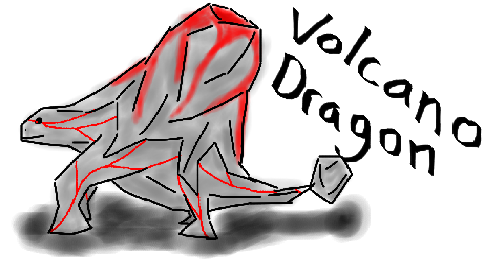 The Volcano Dragon, a close relative of the Lava Dragon, has a rocky body and a heart of of magma. Because of these attributes it slowly grows an entire volcano on it's back. It enjoys it's solitude but if you lure one into a suitable habitat it will love it's new home amognst the other dragons. Just know that if it erupts it is only having a good time. - This is my first dragon I have drawn electronicically!
Birthday Dragon
This dragon knows how to party! It knows when everyone's Birthday is, so when it's your Birthday brace yourself. This dragon will rock up uninvited, but don't send it away. it brings cake!
(Sorry about the quality of the picutres.)
If you have an idea of a dragon you want me to draw please tell me on my message wall.
Dragon Checklist
My Badges