This is my user page.I like Septembers Gemstone and decoration.
The Star Sapphire of Trigon has an awesome name and appearance.Don't you think so?
My favorite pages
Do you Prefer Uncle Bob or Uncle sam?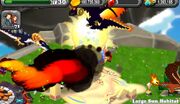 The Aquamarine Dragon is one of my favorite dragons of 

all time!

I have 2 Pokecards so far.BrethrenNinja thx!
Misc.

A giant hand procceding to touch the sun.Interplanetary scale involved!The giant that is controlling this hand might be more massive than the sun!

Bears in Space!
Is it weird,or awesome to see a bear in space?You can choose both!