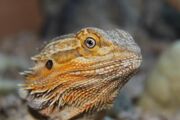 0embed/B7zo2zY1Zqg1

Greetings, I am Inconspicuosaurus, the expertly disguised dinosaur. See, you didn't even realise I was one, did you? 
In real life, I am a geology (spec. palaeontology) student from the UK with a keen interest in science, nature, sci fi, fantasy, and mythology. Working on my Masters degree takes up most of my time, but I spend my spare time time reading, writing, listening to music, drumming, watching films and caring for my pets.
I love to research the references and puns that dragon descriptions often include, and you'll usually see me around either filling in the description and references for new dragons, or going back through old pages to fill in missing reference sections.
I think DragonVale is a fantastic game for its ability to be simple, yet intriguing and entertaining. And in looking into the various things that inspire dragon designs and descriptions, it can often lead to learning more about the world and its culture, both pop and ancient, which I think is awesome.
((The Dragon Checklist is really old and doesn't seem to be being updated anymore, but suffice it to say that I have every dragon except Faire.))
My favorite pages
Epic Dragons:
Limiteds:
Classics:
New Dragons:
Dragon Checklist
Template documentation
(for the above template, sometimes hidden or invisible)
Community content is available under
CC-BY-SA
unless otherwise noted.