Hello! I'm Harpy. I love birds, all other animals (including bugs, bugs are animals too, you can't convince me otherwise), and plants! I live in a place called 'somewhere', it's very nice, by the way. Maybe you'd like to visit sometime. Anyways, you can ask me about random things and, as long as you're not asking for any personal information or it's something I don't know, I'll be glad to answer. Some things I enjoy are decorating for holidays, running, birdwatching, drawing, and gardening. I have two lovely pets- a cat and dog, if you know me well you're sure to hear a lot about them! If you have a message for me, go to my Message Wall. Goodbye, and have a great day!

Here is a picture of my park: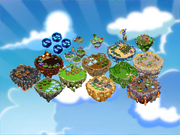 My Friend ID is DragonVale#221842. I am active, usually daily. I have 379 dragons, which include 180 elementals, 123 epics, and 132 specials. I am at level 90. I have Goody's Sugar Shack and the Dragonsai Gifting Tree.

NOTE: I don't have two of each dragon.