Dragons which are part of the "Rift" section of the Dragonarium only have one trait which is unable to be switched.
       Example: The Kampos Dragon only has the water trait.
The Transfiguration Tower allows players to change the traits of the dragons within it. The Transfiguration Tower can be found within the Rift Dimension after clearing the necessary Miasmic Ether to find and reveal it. The build time for the Transfiguration Tower is instantaneous.
Dragons which have multiple traits unlocked can change to a different unlocked trait for free, but if a player wants to switch to a trait which is still locked that trait must be unlocked first.
The cost to unlock a locked trait is

10,000.
Each dragon has its own set of possible traits which can be unlocked and unlocked traits are not transferable between dragons.
Example: If a Salamander Dragon has an air trait and a Willow Dragon without one, the Willow Dragon won't receive the air trait unless the player either breeds a Willow Dragon with an air trait or pays to unlock the air trait for the Willow Dragon.
The only other way to unlock a trait for a specific dragon other than paying to unlock it is to breed the dragon with that specific trait in the Rift Hibernation Cave.
Once a player has one dragon with a trait hatched and present either in the park or rift, any other of that dragon bred in the future with a different trait will automatically be applied to it as an option to switch to in the Transfiguration Tower.
Using The Transfiguration Tower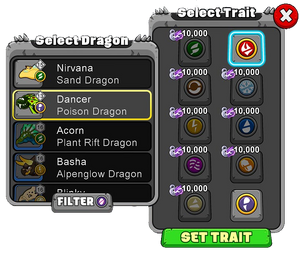 The Transfiguration Tower can be used by selecting a dragon from the list of dragons on the left side of menu after entering it.
Once a dragon is selected the player will see which traits are unlocked and which are locked for it.
If a trait is unlocked it can be selected and confirmed by tapping on the "Set Trait" button at the bottom.
If a trait is locked it must be unlocked first before it can be set.
Gallery
Notes
The Transfiguration Tower was released on September 13, 2017 with Update 4.0.
---
Community content is available under
CC-BY-SA
unless otherwise noted.