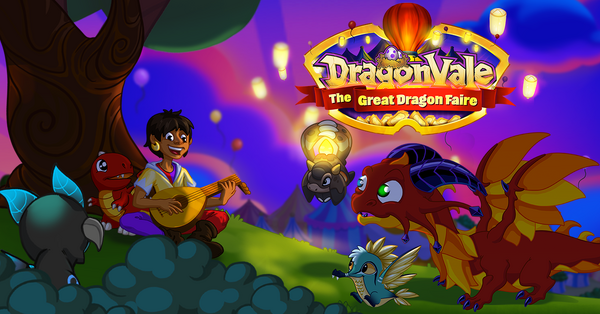 The Great Dragon Faire 2018 was a special, limited time event by DragonVale which required players to collect tickets and trade them at the Prize Tent to receive rewards.
Tickets needed to be collected and traded at the Prize Tent. Each reward required a certain amount of tickets to be traded in to be earned.
Firelight
Prize
Individual Cost
Pylon of Volcanism
415
Pylon of Zephyrism
415
Dawnbreak Edifice
1,245
Fire Theme
2,285
Air Theme
2,285
Prism Dragon
2,905
Midday Dragon
4,150
Dawn Dragon
6,225
Fireflight Dragon
8,530
Twilight Tower
10,375
Fireflight Pedestal
2,155
Prism Pedestal
385
Midday Pedestal
540
Dawn Pedestal
800
Frozen Floe
Prize
Individual Cost
Pylon of Glaciation
415
Pylon of Aquafication
415
Large Snowflake Habitat
1,445
Cold Theme
2,285
Water Theme
2,285
Tidal Dragon
2,700
Icebound Dragon
2,780
Snowflake Dragon 5
3,030
Goody's Treatery
4,150
Snowflake Dragon 6
6,480
Snowflake Pedestal 6
1,645
Tidal Pedestal
360
Icebound Pedestal
370
Goldenleaf
Prize
Individual Cost
Pylon of Alluring Alloys
415
Pylon of Perennial Growth
415
Metal Theme
2,285
Plant Theme
2,285
Spritely Dragon
5,000
Satin Dragon
5,675
Misfortune Dragon
6,020
Large Omnitat
9,095
Dartwing Dragon
9,255
Dartwing Pedestal
2,335
Spritely Pedestal
650
Satin Pedestal
730
Misfortune Pedestal
775
Boulderbright
Prize
Individual Cost
Pylon of Thaumaterra
415
Pylon of Blazing Luminance
415
Large Monolith Habitat
1,445
Light Theme
2,285
Earth Theme
2,285
Monolith Dragon 6
3,030
Bilby Dragon
6,020
Sandscale Dragon
8,250
Yolkwing Dragon
9,095
Lost Island
10,375
Sandscale Pedestal
2,085
Bilby Pedestal
775
Yolkwing Pedestal
1,160
Spark in the Dark
Prize
Individual Cost
Pylon of Dark Rift Remnants
415
Pylon of Fulmination
415
Dark Theme
2,285
Lightning Theme
2,285
Nesting Dragon
3,115
Gargoyle Dragon
3,945
Spooky Habitat
4,150
Dracabra Dragon
6,225
Abraxas Dragon
9,800
Weather Station
10,375
Abraxas Pedestal
2,475
Nesting Pedestal
410
Gargoyle Pedestal
515
Dracabra Pedestal
800
Grand Finale
Prize
Individual Cost
Epic Egg of Mystery
2,000
Snowflake Dragon 6
6,480
Monument of the Epics
6,750
Sandscale Dragon
8,250
Fireflight Dragon
8,530
Dartwing Dragon
9,255
Abraxas Dragon
9,800
Relic of the Epics
9,800
Gargantuan Island
13,500
Tier Availability Dates
Tier
Open
Close
Fireflight
June 7, 2018
June 13, 2018
Frozen Floe
June 13, 2018
June 18, 2018
Goldenleaf
June 18, 2018
June 24, 2018
Boulderbright
June 24, 2018
June 29, 2018
Spark in the Dark
June 29, 2018
July 5, 2018
Grand Finale
July 5, 2018
July 6, 2018
All Dates Open and Close at 17:00:00 UTC
What is the Great Dragon Faire 2018 Event?
The Great Dragon Faire 2018 objective was to collect tickets .
The "Info" section of Rewards section in The Great Dragon Faire 2018 Help Menu provided a display of the info box for their respective rewards which were viewed by clicking the reward after obtaining it.
Tutorial
The Great Dragon Faire 2018 started with a tutorial explaining how the event will work.
The tutorial took a few minutes to complete from beginning to end, but players received

500 as a goal completion reward after completing the tutorial.
The first time the tutorial shows up in your park, you are guided to click on the Prize Tent, then you are guided to the main tutorial page with rules and rewards tabs, but you can immediately X out of the tutorial without hitting any of the info boxes if you choose.
Prize Completion
When enough tickets were collected, they were able to be used at the Prize Tent for unique prizes. Players were able to select which reward they wanted in what ever order they wished.
Max Tickets
The completion prize at the end of the tutorial does not count toward your max daily tickets.
The daily tickets limit is 1,000 a day and 2,000 on double days.
Community Rewards
The community had the chance to work together to obtain a "community reward" if enough tickets were collected.
Flag Bearing Visitors
When there is an orange banner around the "visitors" button, there are special Banner Bearing Visitors.
If clicked on, the Banner Bearing Visitors will grant some tickets.
The Banner Bearing Visitors grant extra tickets if the element they represent is one of the elements in the tier whose prizes were available at that time.
Tier Specific Element Banner Bearing Visitors grant

50 on regular day;

100 on double.
Standard Banner Bearing Visitors grant

10 on regular day;

20 on double.
Backflip Studios FAQ
At the start of the The Great Dragon Faire 2018, Backflip Studios posted a FAQ guide on their Web site here.
Below are images of the entire FAQ guide, and the videos in it are in the gallery section of this page:
Gallery
| | | | |
| --- | --- | --- | --- |
| | | | DragonVale The Great Dragon Faire 2018 |
Notes
The The Great Dragon Faire 2018 began on June 7, 2018 and ended on July 6, 2018.
To obtain the The Great Dragon Faire 2018 rewards, a player needed to turn in tickets at the Prize Tent from June 7, 2018 to July 6, 2018.
On June 7, 2018 Backflip Studios made it possible to collect twice the amount of tickets from completing the tasks in the The Great Dragon Faire 2018 event and doubled the daily capacity of tickets. This was a promotion and only lasted for 24 hours.
On June 12, 2018, the first "Community Reward" was received.
On June 17, 2018, the second "Community Reward" was received.
On June 27, 2018, the third "Community Reward" was received.
On July 2, 2018, the fourth "Community Reward" was received.
---
Community content is available under
CC-BY-SA
unless otherwise noted.