---
cutepolish
---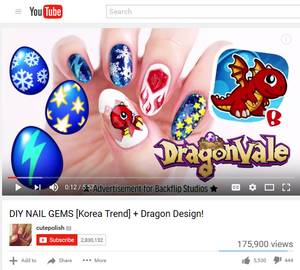 On August 5, 2016, YouTuber team cutepolish uploaded a video to their YouTube Channel.
The video was for an episode showing DIY nail art and was sponsored by DragonVale and Backflip Studios.
In the video Minnie from the channel guided viewers through how to do various DragonVale inspired nail art designs.
The video started out showing the viewer how to make nail gems which is currently a popular trend in Korea.
Along with the nail gem, she showed users how to make nails which featured an Iceberg Dragon egg design, a Plasma Dragon egg design, a Lotus Dragon egg design, and a Baby Fire Dragon design.
In the video it was mentioned that they had been playing DragonVale a lot recently the past month and they left a link for their viewers to play DragonVale for free.
During the video Minnie provided a brief overview of what DragonVale is for any viewers unfamiliar with the game.
In the description cutepolish thanked Backflip Studios for sponsoring their video and listed all of the supplies which were used in the nail art tutorial.
Below is the video which cutepolish posted on their YouTube Channel::
Gallery
Community content is available under
CC-BY-SA
unless otherwise noted.