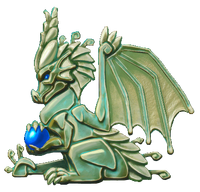 "

The Statue of Kairos is the third and final stage in the process of summoning the Legendary Dragon Kairos, who lords over time. This grand visage of Kairos depicts him holding a ball of... wibbly-wobbly, timey-wimey... stuff.

"



 

— Game Description 
Mechanics
The Statue of Kairos is the third stage that must be completed before being able to summon Kairos. To complete this stage, you have to collect seven different time fragments. The only ways to collect these fragments are to win them in the Dragon Track, have your dragon collect them from quests, or to buy each fragment with gems.
The Fragments
Image
Position
Price
Quest Time

Bottom Right

(Tail)

 75
3 hours

Top Right

(Wing)

 75
4 hours

Bottom Center

(Feet)

 75
6 hours

Bottom Left

(Orb)

 75
9 hours

Center

(Torso)

 150
13 hours

Top Center

(Neck)

 150
18 hours

Top Left

(Head)

 300
24 hours
Notes
If one were to purchase every piece (as opposed to racing in the Dragon Track or completing quests), the Statue of Kairos would cost  900.
The Statue of Kairos is the only artifact that is not connected to the Perch of Kairos when assembled.

The Statue of Kairos can be seen, following completion, by clicking the "Enter" button, along with all the other artifacts.
The Statue of Kairos' description includes a reference to the series Doctor Who, where in the episode "Blink" the Tenth Doctor describes the progression of time as a "big ball of wibbly-wobbly, timey-wimey... stuff."

The Statue of Kairos also has another reference to Doctor Who: "...Kairos, who lords over time..." mentions the title of the Doctor (Time Lord).
---
Community content is available under
CC-BY-SA
unless otherwise noted.