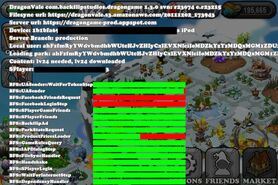 These are glitches that sometimes occur. If you come across a glitch, feel free to list it!
---
Debug Screen: If you touch one finger in the left third of the screen, then two on the right third (first the left one, then the two on the right) and hold them at the same time, watch what happens!
Tappity Tap Tap: If you tap one object and tap another while the camera is still moving, the menu will switch to the second object but the camera will still be hovering above the first object. It won't work in the update 1.5.0.
Time Glitch: On timed events, including Incubation, Treats, and the Colosseum, if you wait until there are a few seconds remaining, then hold down on the time button, release at the proper time and you can see a time of 00:00:00.
Right Scroll Glitch: In the treasure section of the Market, select anything for sale. It doesn't matter if you actually purchase it or not, but after the dialog box has gone away, select a sub-category (gems/treats/money). You can scroll very far to the right, the same distance as if you were in the main treasure section. The bug persists even if you switch between sub-categories, and is only fixed the next time you enter the treasure section.
Huge Dragon!!!: Level 11-19 Sandstorm Dragons are giant. On level 20 they shrink back to normal size.

Cracked Tiles: Sometimes, when you tap on a tile in the first island , it looks cracked.
Non-Joining Paths: Sometimes, when you edit your paths on an island and they are meant to join, they will not join.
Sky Tree glitch: If you put any element flag in the far right corner of a large air habitat the skytree in the corner will float on top of the flag.
Notes
If you play DragonVale within wireless connection, and then go out of wireless connection range, you will still be able to play until you exit the app.