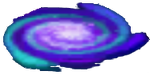 Etherium Vortices appear within the Rift Dimension.
Etherium Vortices will give players etherium if tapped on.
Depending on the size, different amounts of etherium will be given to players
The larger the etherium vortices, the higher the amount that is rewarded.

Only a limited amount of etherium vortices appear in the Rift Dimension each day.
The amount of etherium vortices reset when the game has its daily reset.
Etherium Vortices may spawn at different times of the day and not all at once at the reset.
Etherium Vortices may spawn closer to the Rift Gate, but may also spawn further out into the Rift Dimension in areas where Miasmic Ether has been cleared.
Amounts
The most gathered etherium earned from the etherium vortices that appear is

375 total each day.
There are four different size etherium vortices and each size is worth a different amount.
Etherium Vortices appear in sizes which give the amounts of 15, 20, 40, and 50 etherium.
There are three of each size of etherium vortices that appear.
Gallery
Notes
Etherium Vortices was added on September 13, 2017 as part of Update 4.0.
---
Community content is available under
CC-BY-SA
unless otherwise noted.