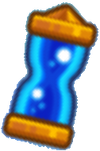 Eternal Essence was introduced during the second Kairos' Birthday event, and can be traded at the Perch of Kairos.
Backflip Studios gave each player

150 during the tutorial for Kairos' Birthday.
Players are given an opportunity to find eternal essence during normal game play by performing everyday activities.
Finding Eternal Essence
Using gems (speeding up).
Completing quests
Completing races
Using Kairos' power
Earning Eternal Essence
---
Gems Gems - QuestsQuests - RacingRacing - Kairos' PowerKairos' Power
---
Using Gems
(Speeding Up)
Amount
Eternal Essence
Each Gem Used
5
Using Eternal Essence
Eternal Essence is used to level up Kairos.
Each level requires a certain amount of Eternal Essence to be spent.
Advancement Tiers
Power Level
Cost
Two
1,000
Three
1,500
Four
2,000
Five
2,500
Six
3,000
Seven
3,500
Eight
4,000
Nine
4,500
Ten
5,000
Eleven
5,500
Twelve
6,000
Thirteen
6,500
Fourteen
7,000
Fifteen
7,500
Sixteen
8,000
Seventeen
8,500
Eighteen
9,000
Max
9,500
Gallery
Notes
---
Community content is available under
CC-BY-SA
unless otherwise noted.